BREAKING: 20Mil Americans In DANGER From What Nunes Tried To Erase From Memo – Check If You're One
THIS IS MAJOR!!!
As the layers of the onion continue to peel back revealing just how deep the corruption in Washington goes, it is up to the every day Americans to research and connect the dots.  Some call us "conspiracy theorists" and yet others simply call us crazy.  Aristotle says, "No great mind has ever existed without a touch of madness" and so it goes as we travel down the rabbit hole revealed by one former U.S. intelligence contractor named Dennis Montgomery.
Many Americans do not even know his name, yet they should. Montgomery walked away with more than 600 million classified documents on no less than 47 hard drives from both the National Security Agency (NSA) and the CIA. His breach is considered even larger than that of Edward Snowden.  Why is this important you ask?  Well, take a trip down memory lane with me.  It's a rather short trip to March 22, 2017, when House Intelligence Committee chairman Devin Nunes gave a press conference disclosing that President Donald Trump had been under "incidental surveillance." This press conference was viewed by many as a vindication that President Trump's prior claims that he was "wiretapped" by the Obama administration calling it "McCarthyism." The leftists and the mainstream media propaganda mouthpieces just laughed and laughed, until Nunes' press conference that is.  Then they tried to discredit him…
Terrible! Just found out that Obama had my "wires tapped" in Trump Tower just before the victory. Nothing found. This is McCarthyism!

— Donald J. Trump (@realDonaldTrump) March 4, 2017
On the very same day Nunes gave the press conference, Attorney and FreedomWatch Chairman, Larry Klayman, sent a letter to Nunes imploring them to pursue the claims and evidence presented under oath at a Washington DC FBI Field Office by his client – CIA / NSA Whistleblower Dennis Montgomery – who Klayman claimed at the time "holds the keys to disproving the false claims…   …that there is no evidence that the president and his men were wiretapped"
You see, Montgomery himself tried to deliver this information through the appropriate channels roughly three years prior and the former CIA and NSA contractor was not given the time of day. Klayman wrote – "When Montgomery came forward as a whistleblower to congressional intelligence committees and various other congressmen and senators, including Senator Charles Grassley, Chairman of the Senate Judiciary Committee, who, like Comey, once had a reputation for integrity, he was 'blown off;' no one wanted to even hear what he had to say."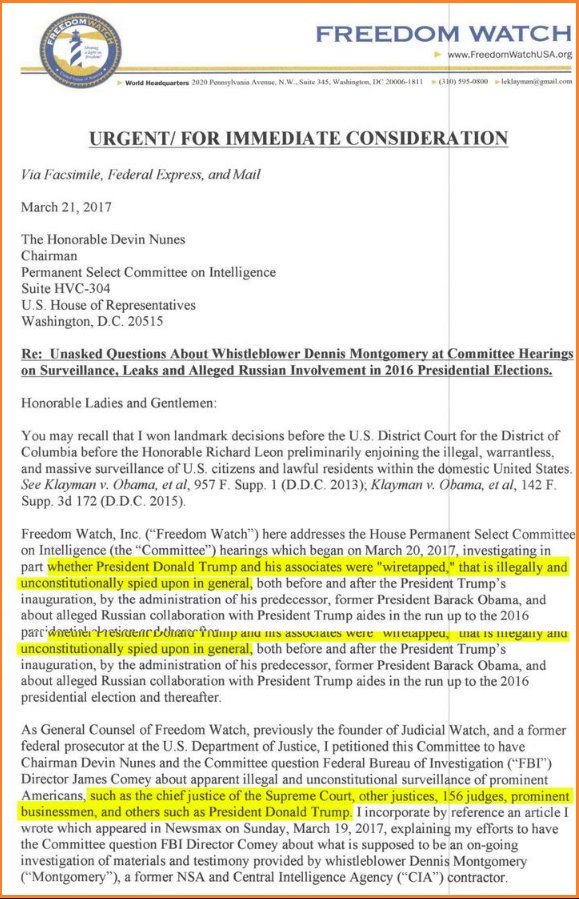 As a result of this Montgomery sought counsel, seeking out Klayman to represent him and then approached the FBI.  What Klayman revealed on Montgomery's behalf was nothing less than chilling –
"Under grants of immunity, which I obtained through Assistant U.S. Attorney Deborah Curtis, Montgomery produced the hard drives and later was interviewed under oath in a secure room at the FBI Field Office in the District of Columbia. There he laid out how persons like then-businessman Donald Trump were illegally spied upon by Clapper, Brennan, and the spy agencies of the Obama administration.
Montgomery left the NSA and CIA with 47 hard drives and over 600 million pages of information, much of which is classified, and sought to come forward legally as a whistleblower to appropriate government entities, including congressional intelligence committees, to expose that the spy agencies were engaged for years in systematic illegal surveillance on prominent Americans, including the chief justice of the Supreme Court, other justices, 156 judges, prominent businessmen such as Donald Trump, and even yours truly. Working side by side with Obama's former Director of National Intelligence (DIA), James Clapper, and Obama's former Director of the CIA, John Brennan, Montgomery witnessed "up close and personal" this "Orwellian Big Brother" intrusion on privacy, likely for potential coercion, blackmail or other nefarious purposes. 
He even claimed that these spy agencies had manipulated voting in Florida during the 2008 presidential election, which illegal tampering resulted in helping Obama to win the White House."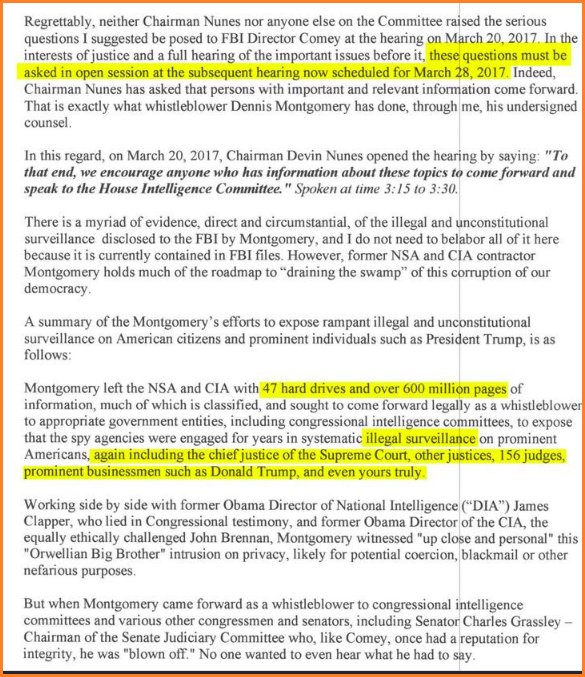 Now the FBI had sat on Montgomery's testimony and evidence for more than two years at the time, doing nothing. Therefore, Klayman had every expectation that "nothing" would indeed continue. In an effort to circumnavigate that Klayman traveled to Washington D.C. and met directly with Nunes planning to ask directly WHY then-FBI director James Comey would not and had not pursued the evidence brought forth Montgomery given the significance of what it revealed. Klayman states that Nunes blew him off initially and instead shared the information from their meeting with committee attorney Allen R. Souza.
Klayman stated – "During my meeting with House Intelligence Committee counsel Allen R. Sousa I politely warned him that if Chairman Nunes, who himself had that same day undercut President Trump by also claiming that there is no evidence of surveillance by the Obama administration, I would go public with what would appear to be the House Intelligence Committee's complicity in keeping the truth from the American people and allowing the FBI to continue its apparent cover-up of the Montgomery "investigation."
And, that is where it stands today. The big question: will House Intelligence Committee Chairman Nunes do his job and hold FBI Director Comey's feet to the fire about the Montgomery investigation?"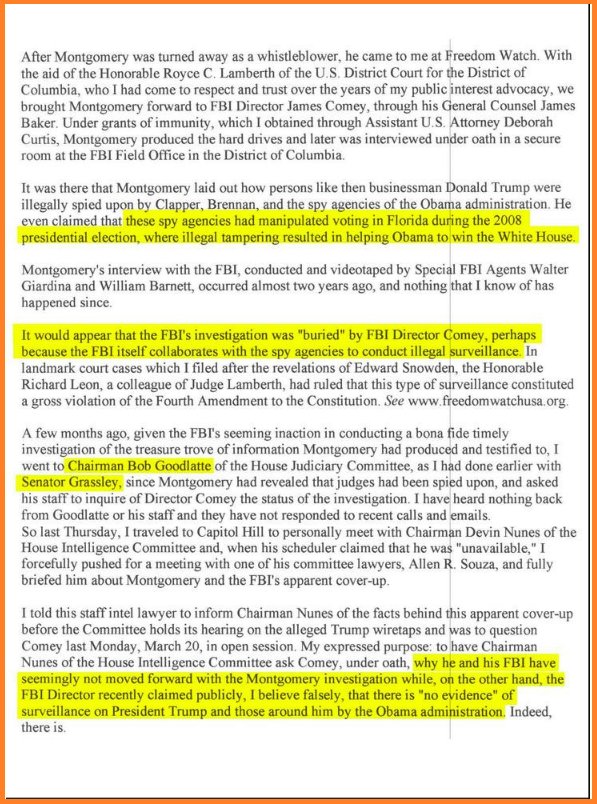 Klayman followed up that meeting with an official letter to Nunes demanding Comey be questioned regarding the veracity of Montgomery's evidence – evidence detailing a massive spy operation on 156 judges, the Supreme Court, and high profile Americans including Donald Trump. Nunes promptly responded with a press conference revealing President Trump had indeed been wiretapped as the President initially claimed and the sharks began to circle, turning on Nunes.
Following the firing of Comey by President Trump and Comey's Congressional testimony where Comey is believed to have committed perjury regarding his "memos" on his conversations with President Trump and the subsequent press leaks at Comey's request, Klayman filed a lawsuit on Montgomery's behalf on June 5, 2017, filing suit against Comey, former head of the CIA – James Brennan, the FBI, the NSA, and several others.  The lawsuit alleged the FBI was covering up evidence Montgomery provided demonstrating widespread spying on Americans in violation of the 4th amendment and civil liberties.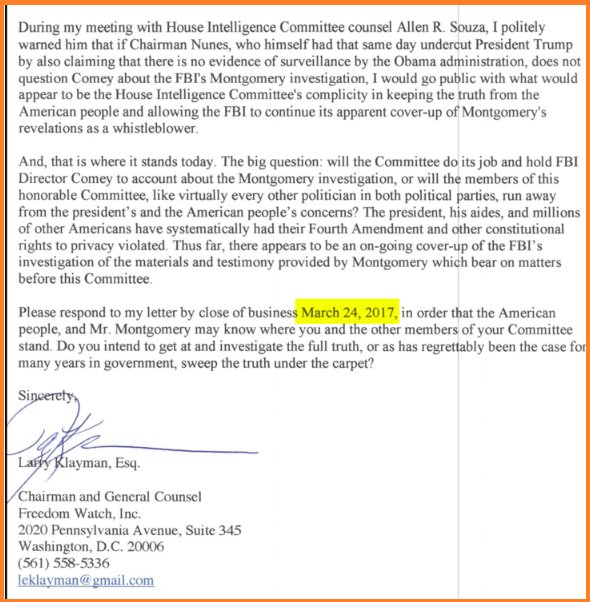 Some 20 million Americans were illegally spied upon by the NSA and intelligence agencies, including the FBI.  That literally means our Fourth Amendment is being treated is little more than a work of fiction under the NSA, FBI, CIA, and the other various alphabet agencies. Montgomery details how he was being asked to unmask everyday hardworking Americans like you and me for no reason relating to security – normal law-abiding, American citizens – our bank accounts, phone records, breaking through our firewalls, passwords.  There is literally NOTHING sacred or private.
Now fast forward to the recent release of Nunes memo regarding accusations against senior officials at the DOJ of inappropriately using biased opposition research from GPS Fusion to obtain surveillance warrants on transition team members of the Trump administration as well as President Trump himself both during the election and during the transition,  as part of the federal investigation into the Trump campaign and Russia. The memo details how the now infamous Trump-Russia dossier was "essential" in obtaining these surveillance warrants against former Trump aide Carter Page. The memo also details then-deputy FBI director Andrew McCabe told the committee in December 2016 without the information from the phony dossier, no surveillance warrant for Page would have been sought.
Despite clear evidence of dossier author Christopher Steele's extreme and evident bias against President Trump, this information was not conveyed to the courts when warrant applications were made.   Instead, then-associate deputy attorney general Bruce Ohr details just how desperate Steele was about President Trump not being elected to the presidency, stating he was "desperate that Donald Trump not get elected and was passionate about him not being president."
All of this, every bit of this investigation can be laid at the feet of one former government contractor who refused to take "NO" for an answer.  A man named Dennis Montgomery that literally took on the American government and many do not even know his name. It seems that our fourth amendment is little more than words on paper and our Constitution is becoming little more than something we read about in school.  If that does not frighten you? It should. The idea of a government unconstrained, unchecked, and literally run amok? Well, history books are chock full of what happens to the common people when the political despots are allowed to run roughshod and the people do not rise up to hold them accountable for their actions. It remains to be seen whether Nunes is friend or foe.
It is up to us to expose this and to hold these people accountable and it seems Dennis Montgomery and Larry Klayman took that responsibility seriously.  Will you simply continue to allow Washington to enslave you while feeding you lies about how free you are?  Søren Kierkegaard says – "There are two ways to be fooled. One is to believe what isn't true; the other is to refuse to believe what is true." Be American in the truest sense of the word.  Be neither.  Be free.  Be informed.
Billy Graham's Facebook Page Posted This Spectacular Message Just Hours Before His Death
A haunting message that said…
Billy Graham just passed away at the ripe age of 99. He was an extraordinarily influential and well-loved evangelist pastor from North Carolina who changed lives and the hearts of millions of people. His attitude, kindness, and ability to deliver a driving message into the minds and hearts of those willing to listen were left with nothing less than a fantastic experience that continued to grow positively in the communities he traveled to.
Not only was he well liked by the ordinary person, but he was also charismatic and thoughtful enough to be considered the counselor or minister to numerous United States Presidents. He's traveled the world, visiting 185 countries, and pursued his dream of spreading the right word to millions of people across the planet. He's been quoted and idolized by so many people that only an estimate would be right to guess the numbers of hearts he's touched with his words.
He finally passed away at 99-years-old and went to meet his maker, leaving a world left in pieces but slowly rebuilding with a greater sense of love, trust, and finding our way. Billy Graham leaves us as one of the most influential evangelist pastors the world might ever see. We don't get that many great ones, but when we do, they set the bar incredibly high.
NBC News reported more on his passing:
"Graham died just before 8 a.m. at his home in Montreat, North Carolina, surrounded by family, according to a spokesman for Samaritan's Purse, the nondenominational evangelical Christian organization headed by Graham's son Franklin.
His following was undeniable: The longtime evangelist appeared on Gallup's list of the most admired men and women 60 times since 1955 — every year the research company asked the question.
Born William Franklin Graham on Nov. 7, 1918, "America's pastor" came from modest means and grew up on a dairy farm in Charlotte, North Carolina. He found his spiritual path at 16, charmed by the traveling minister and temperance movement leader Mordecai Ham. Graham later moved to Florida and was ordained there in 1939.
He met his future wife, Ruth McCue Bell, while they attended Wheaton College, and they married in 1943. Together they would raise five children, and she would become a trusted adviser.
"When it comes to spiritual things, my wife has had the greatest influence on my ministry," Graham said of Bell, who died in June 2007."
If you thought that was the last you'd see or hear from Pastor Graham, then you'd be inevitably mistaken. There was a bone-chilling message posted on his Facebook page just hours before he passed away. Graham's final Facebook post leaves the world thinking deep within themselves for the truth. Billy Graham's message forces us to be accountable for our actions and find our way to deal with what's going on in our lives. Thousands of people on Facebook have liked and shared his last message for the world.
It was posted:
"If you went for a walk in the woods, but then decided to wander off the path, and found yourself surrounded by a thicket of thorns and poison ivy, who would you blame? Would you blame the person who built the path? No, of course not. Instead you'd blame yourself if you were honest, because you alone were responsible for wandering from the path.
In a far deeper way, this is what happens when we decide to leave God out of our lives. For a time, it may seem like wandering away from Him doesn't make any difference; it may even seem easier and freer. But eventually it catches up with us—just as wandering off that path and into the thicket caught up with you." —Billy Graham #BG100″
While Graham was a man of God, and his message was meant for everyone despite political ideologies, perhaps Democrats should take note, as they are the ones who want to take all thing God out of the public sphere. Which may be the reason we are encountering so many problems in our society, the recent Florida school shooting and the division it is causing as just one example.
People will interpret Graham's message in more ways than one, finding their own meaning in his last words to the world via social media. Some people won't listen, and perhaps they're the people going down that path and into the thicket with the poison ivy. Some people will eliminate the poison ivy and clear a new path. Some will avoid it altogether. But there's one thing we know for sure, and it's this – Billy Graham left us with the one message that will make everyone think long and hard about the direction they're walking.
What path will you take?
Eric Holder Caught On Video Before FL Shooting Making Sick Admission He Never Wanted Out [Watch]
He didn't want anyone else to see this…
Former Attorney General Eric Holder is one of those classic politicians that delights his party and infuriates the other side. He served faithfully under former President Obama as the Attorney General, where he was the first person to hold that office to be held in contempt of Congress for withholding documents in an ongoing congressional probe.
This is the same Holder who is considering a presidential bid for the 2020 election. Many believe this to be an exciting prospect on both sides. It would give liberals hope for what would likely be an Obama 2.0, and it encourages the right because he's not the middle ground candidate that the left desperately needs if they plan to oust President Trump.
His political chances decrease by the day because of how plain-spoken he was in the past about the real liberal agenda. His support of overly restrictive regulations has shown time and again that he represents a faction of the political insiders who want to strip Americans of their rights and rob this nation for whatever they can take from it.
Holder's controversial opinions were brought up again in 2016 when the then-presidential candidates were asked how they would deal with curbing the potential for problems like what happened in Parkland Florida last week. Politifact reported that Senator Cruz referred to Holder's gun policies as the exact opposite to what needs to be done to cure gun violence:
"During the Republican presidential debate in North Charleston, S.C., Sen. Ted Cruz, R-Texas, re-litigated the background of President Barack Obama's former attorney general, Eric Holder.
One of the debate moderators, Maria Bartiromo of Fox Business Network, asked Cruz for "the answer" to stopping mass shootings and violent crime.
'The answer is simple,' he said. 'You prosecute criminals. You target the bad guys. You know, a minute ago, (co-debate moderator Neil Cavuto) asked, 'What has President Obama done to illustrate that he wants to go after guns? Well, he appointed Eric Holder as attorney general. Eric Holder said he viewed his mission as brainwashing the American people against guns. He appointed Sonia Sotomayor to the Supreme Court, someone who has been a radical against the Second Amendment right to keep and bear arms.'
We raised our eyebrows at Cruz's mention of Holder and what he said. Is Cruz right?
Let's go to the videotape from back in 1995, a time when there really were such things as videotapes.
In January 1995, Holder — then the U.S. Attorney for the District of Columbia — gave a speech announcing a plan to curb gun violence in the city of Washington, D.C.
Here's a portion of the speech, recorded by C-SPAN.
'What we need to do is change the way in which people think about guns, especially young people, and make it something that's not cool, that it's not acceptable, it's not hip to carry a gun anymore, in the way in which we changed our attitudes about cigarettes,' Holder said. He later added, 'We have to be repetitive about this. It's not enough to have a catchy ad on a Monday and then only do it Monday. We need to do this every day of the week, and just really brainwash people into thinking about guns in a vastly different way.'"
FLASHBACK: Eric Holder talks about "brainwashing" kids with anti-gun curriculum in Washington D.C. pic.twitter.com/qsYfmJlRUO

— Based Monitored 🇺🇸🇮🇪 (@BasedMonitored) February 22, 2018
As conservatives try not to have trigger words or phrases, but "brainwashing" would be on the list if they had one.  "Confiscation" would also be at the top in regards to gun control debates. This opinion would be slightly more palatable if this were someone whose heart was truly in keeping this country on the straight and narrow to preserve our quality of life. However, this gem named Holder seems to be willing to break the law if it serves his agenda:
"In 2012, the House of Representatives voted to hold Holder in contempt of Congress over his failure to turn over documents related to the Fast and Furious scandal. As Darrell Issa (R-CA) pointed out in 2014, when Obama's Department of Justice finally released thousands of documents related to Operation Fast and Furious that Obama had previously claimed were exempt from congressional review, 'When Eric Holder wants to know why he was the first Attorney General held in criminal contempt of Congress, he can read the judge's order that compelled the production of 64,280 pages that he and President Obama illegitimately and illegally withheld from Congress.'
Holder's legacy includes his refusal to prosecute the New Black Panther Party for voter intimidation; his department monitoring Fox News' James Rosen's phone calls and e-mails; and his decision to try Khalid Sheikh Mohammed, the planner of the September 11 attacks, and his co-defendants in federal court in New York instead of military tribunals in Guantanamo Bay."
Every once in a while we get a glimpse into the real political agenda of the left. Disarmament is just one part of the plan, but it's an essential part that a significant portion of Americans are against. Any disliked political agenda will struggle to move forward as long as we can physically stop it. If anyone convinces us to lay down our means of defense willingly, then we open ourselves to attacks that could be a massive detriment to mankind.
Liberals Unnerved When They Find Out What Trump Secretly Gave Melania's Parents
They lost their minds when they found out what just happened…
This may still come as a surprise to many who remain plugged into the mainstream media, but the Trump Administration isn't anti-immigration. They're anti-illegal immigration, just like they're against any laws being broken. Unfortunately, since that particular law is prohibiting the DNC from importing new unwitting voters who haven't  yet become privy to their lies, they're dead set against anything that might slow down their future supporters.
The current administration inherited a whole load of problems, all stemming from the lax immigration policies of the former administration. The welfare programs are overburdened, drugs are flooding the streets, and gang violence stats are at an all-time high. That's what happens when immigrants enter the country illegally and break laws while abusing welfare systems. None of that touches the potential terrorist threat that insecure borders and chain migration bring us.
The Trump administration has made a big deal about wanting to put an end to the immigration problem. Both the administration and the Trump family are being scrutinized for being pro-legal immigration. This is especially ludicrous, considering that the First Lady is an immigrant. That connection to another country is what the New York Times is trying to use to criticize the First Couple. According to recent reports, the First Lady's parents want a more permanent address in the United States, and liberals are criticizing the First Family for helping them get it.
"WASHINGTON — The parents of the first lady, Melania Trump, have obtained lawful permanent residency in the United States, a lawyer for the couple confirmed Wednesday, but it remains unclear how or when the couple received their green cards.
The lack of clarity about when and how Viktor and Amalija Knavs obtained their legal residencies raises questions about whether the couple secured their residency through family-based immigration, which President Trump calls chain migration and has said he wants to restrict. Immigration experts said it would have been the most direct, and most likely, way for Mrs. Trump's parents, formerly of Slovenia, to get their green cards."
This is an attempt to point out a double standard on the part of the First Family. There are a couple of problems with that argument; the first is that the chain migration law hasn't been reversed yet, and while it's probably a bad policy in the grand scheme of things, it's still in effect.
The only reason that it is being reversed would be to keep potential terrorist out, and if the Commander-in-Chief of the armed forces had a personal interview with a person and believed them to be of no threat to the United States, that's probably good enough for most of us. That brings us to the second point; the President is allowed to overrule and make exceptions. We accept that the President is authorized to pardon proven criminals, we should also recognize that he's allowed to put his stamp of approval on an immigrant.
No one has provided any evidence that the President's in-laws shouldn't enter the country, just that they want to make a political statement about their being immigrants.
"Their immigration lawyer, Michael J. Wildes, declined to offer any details.
'It's a privilege to help this family, but I have to respect their privacy as well,' Mr. Wildes said in a brief interview.
'Immigration is in our DNA,' he added. 'We have to take great pride, no matter where somebody hails from, in that legacy.'
Stephanie Grisham, a spokeswoman for Mrs. Trump, wrote in an email that she would not comment on Mrs. Trump's parents because 'they are not part of this administration, and deserve their privacy.' The Washington Post first reported the Knavses' immigration status.
Under family-based immigration, adult American citizens can petition for residency for their parents, adult married children and siblings. Mr. Trump would limit that to spouses and children under 21.
In the Knavses' case, Mrs. Trump, who became a citizen in 2006 after obtaining a green card, would have sponsored them.'
It also might have been possible, Mr. Johnson said, for the Knavses, both in their 70s, to obtain residency through an investment visa or a work visa, although the latter would involve employer sponsorship. Mr. Knavs, a former traveling car salesman, and Mrs. Knavs, who used to design patterns for children's clothes, both appear to be retired."
The extended family of the leader of the free world wants to live in the United States, and it's  a front-page issue because the President has taken a hard line on unvetted and illegal immigrants entering the United States.
We should use this as a demonstration of the fact that President Trump is pro-legal immigration. The only way that we can ensure the United States will remain the desired home address of both the rich and poor is if we keep it safe and use a well-balanced economy.
The only way we can tell the world to give us " . . . your tired, your poor, your huddled masses yearning to breathe free" is if there's rest for the weary, jobs for the poor and freedom to be breathed. That only happens if we take security seriously. There are velvet ropes for a reason, and no one, certainly not the President of the United States, should be shamed for extending a welcome to a legal immigrant who follows the rules of the host country.